2017
MEET LA FEMME… OR SHOULD WE SAY LES FEMMES
Simply titled "La Femme", this luscious, ultra-feminine collection is designed this season by featured designer Jessy Ayala, and was created to celebrate all that makes women of all origins beautiful! With its soft, yet vibrant and diverse color palette and intricately detailed elements, this is Fashion Royalty brought to a new level of perfection!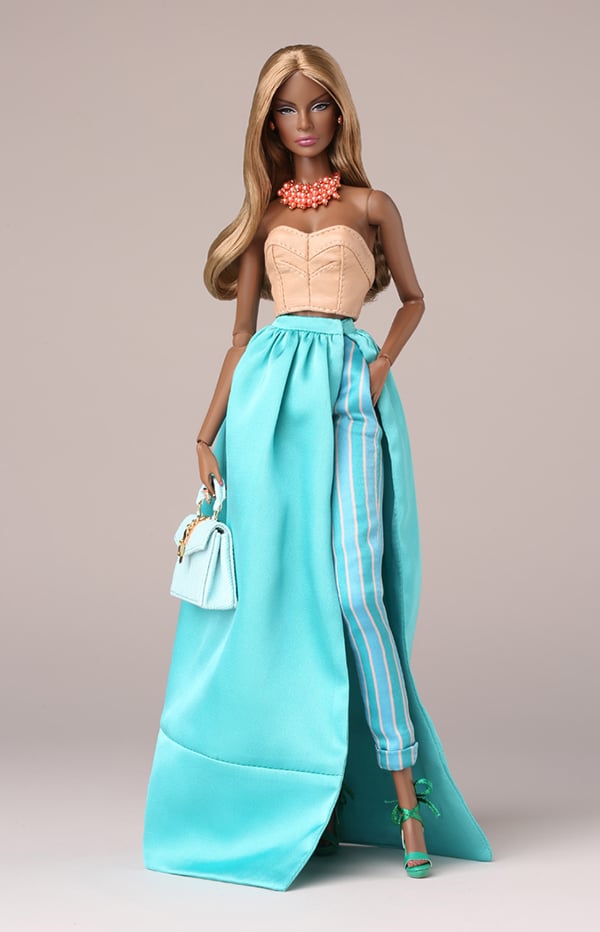 COQUETTE
Jordan Duval™ Dressed Doll
Natalia Fatalé is not about to let the Perrin family get the best of her and of course, since it would be too suspicious for her to attend the conference in person, she sends her number one confidante, sometimes-model and all-time trouble maker, Jordan Duval. Wait 'til Jordan comes back to Paris with the news that everything is about to change in their little world. Natalia will be green at the thought that she didn't attend the conference herself! It doesn't matter though, the only person everyone talked about was Jordan! Her fantastic style was the talk of the town!
Jordan Duval is a 12.5″ fully articulated doll with fully rooted hair. For her "recon" mission on the Riviera, Jordan opted for a reinvented version of the classic hostess outfit with a floor length, detachable turquoise satin skirt over delicately striped satin capri pants, topped by a faux-leather bustier that gives this sunny look an ultra-modern, yet soft and sophisticated edge. Jordan also opted to complete the look with colorful accessories that truly make her perfect cocoa skin tone stand out and shine!
Item: 91414
Edition size: 725
Skin tone: A-Tone
SOPHISTIQUÉE
Vanessa Perrin® Dressed Doll
When the plan took shape for representatives of W Cosmetics to attend the ETSA conference that was taking place in the South of France this year, it didn't take much convincing for Vanessa to to jump on board. For weeks now, she had been hearing about changes that were coming and she wanted to be there to find out about everything before everyone else. Vanessa was definitely a Perrin, always right at the center of the action!
This stunning Vanessa Perrin doll is a fully articulated doll with rooted hair. Dressed to accompany Adèle Makéda and her cousin Eugenia on a trip to the French Riviera, Vanessa wears an ultra-modern look, composed of an intricately detailed blouse with long criss-cross ties on the sleeves and a sheer black lace skirt. Since it can get chilly at night, she took along her favorite faux-fur shoulder wrap, which incidentally happens to be one of her favorite fashion pieces!
Item: 91415
Edition size: 825
Skin tone: Cream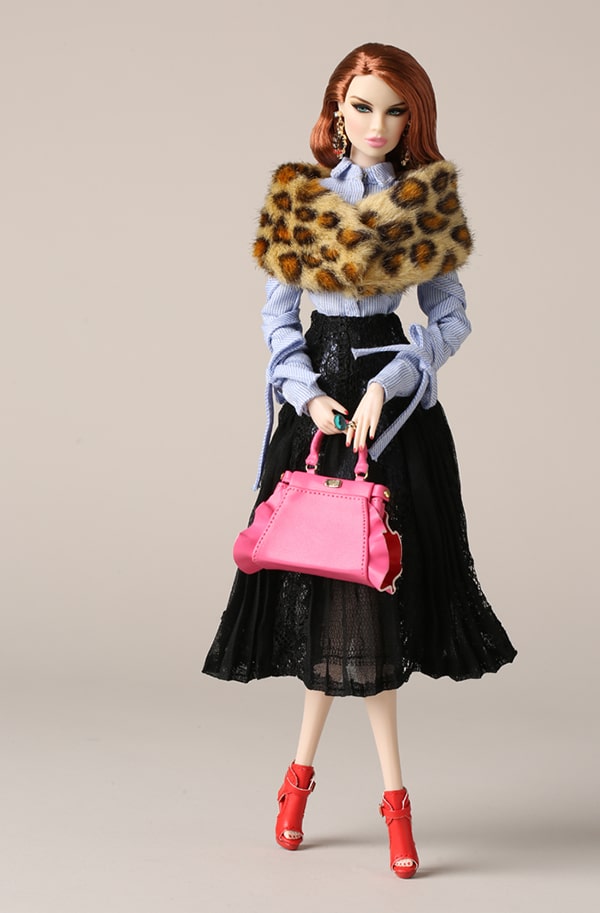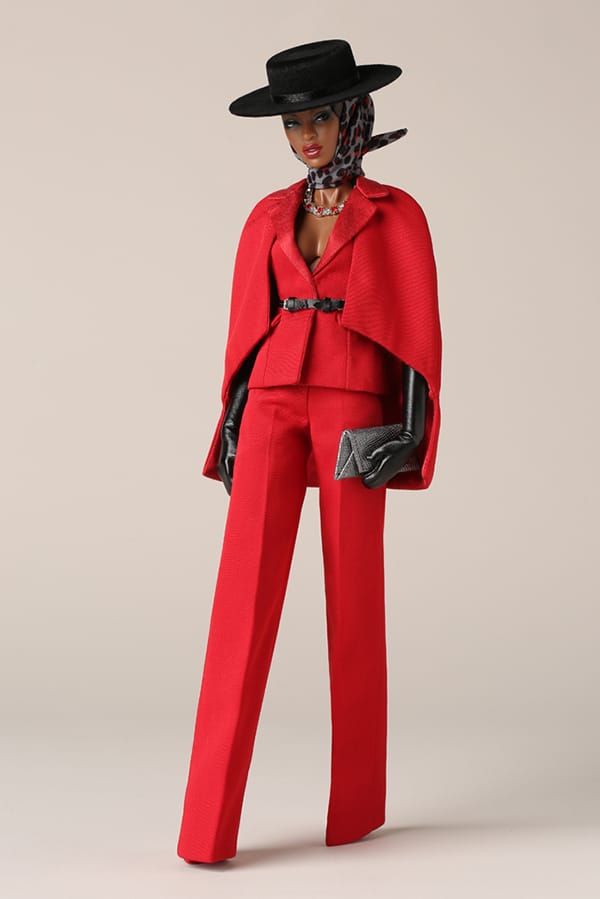 EXQUISE
Adèle Makéda® Dressed Doll
When W Cosmetics owner Véronique Perrin opted to put her close friend Adèle in charge of the W Cosmetics delegation at the annual European Trendsetters' Association (ETSA) meeting in the South of France, she knew she had made the right decision. Who better to represent one of the key players of the beauty industry than one of the top trendsetters on the planet for 5 years running (according to Pop Magazine)? Little did any of them know that their presence there would plant the seed for a major switch in their world, the world of Fashion Royalty!
Adèle Makéda was born to play the role of W Cosmetics' official representative. Fully articulated and standing at 12.5″ tall, this sensational version of one of FR's founding characters features fully rooted hair. For her trek down to the South of France, Adèle opted for an impeccably tailored, red-hot pant suit that features a sophisticated removable cape that transforms the jacket into a vest and allows her to wear this look in multiple ways. She then added a custom-printed headscarf (to protect her finger wave hairstyle), faux-leather gloves and a fashionable hat to complete her look. This lady definitely knows how to travel in style!
Item: 91417
Edition size: 725
Skin tone: FR Black
VIVACITÉ
Eugenia Perrin-Frost® Dressed Doll
As soon as she heard about the big annual ETSA conference that was about to take place in the South of France, Eugenia grabbed her cousin Vanessa and immediately insisted that they make the trip with Adèle Makéda. Who better than those two to keep things smooth and make sure that no one from a competing firm could show up to rain on their parade? No matter what, all reasons are good to visit the Riviera!
Eugenia Perrin-Frost is a 12.5″ fully articulated doll with fully rooted hair. Eugenia channels her inner French girl with this soft and ultra-feminine look that just is just too adorable and sophisticated for words! Dressed in a pair of perfectly fitted capri pants and a sensuous off-the-shoulder blouse (with an extra-long bow detail on the back), Eugenia is ready for an afternoon stroll amongst the stalls of her favorite florists, where she picked up a most delicate bouquet of fresh roses.
Item: 91418
Edition size: 1025
Skin tone: Hungarian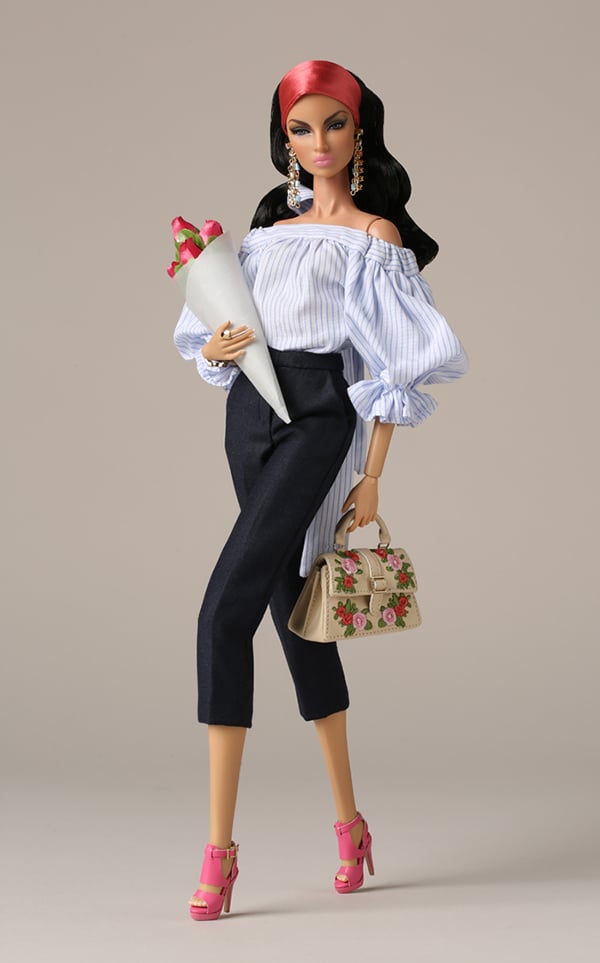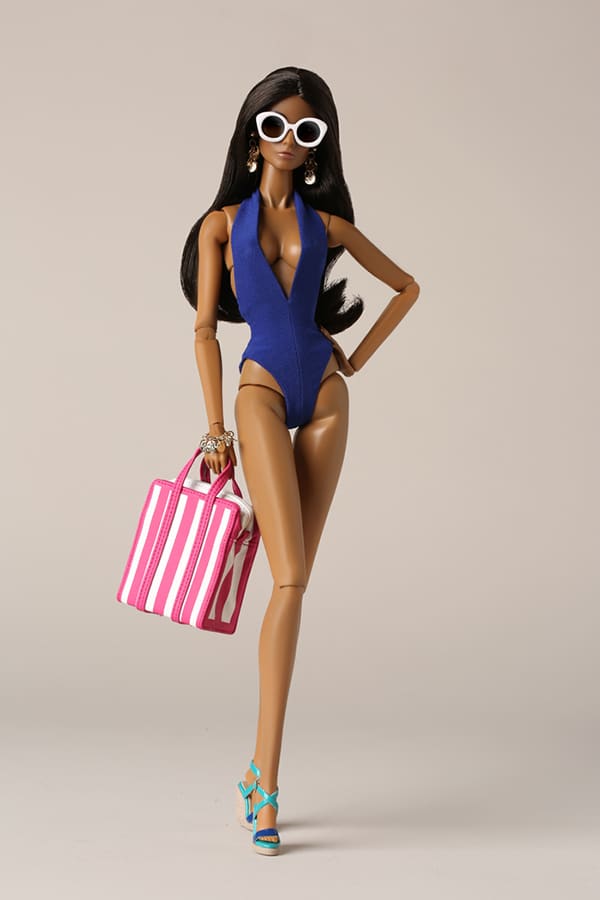 SÉDUISANTE
Elyse Jolie™ Dressed Doll
IT Direct
When the girls arrived in the South of France, they were delighted to run across Elyse Jolie, who, unbeknownst to them, had been on vacation under the sun for quite some time already! Sporting a luscious new "bronzé" look, this leading lady of Fashion Royalty shines like a star!
This absolutely gorgeous fully articulated Elyse Jolie close-up doll measures 12.5″ tall and features fully rooted hair. Seen here for the first time in the Light Honey skin tone, this wonderful addition to the Fashion Royalty collection marks the debut of the new interchangeable lower leg feature and includes two sets of lower legs, one with the traditional high-heeled feet and another with flat, removable feet, as well as corresponding shoes to fit each. Elyse also comes with her own faux-leather beach bag, jewelry and glamorous wide-frame sunglasses.
Item: 91419
Edition size: 1265
Skin tone: Light Honey
MERVEILLEUSE
Agnes Von Weiss™ Dressed Doll
When Agnes arrived at the annual meeting of the design houses to discuss trends and fashion directions for the upcoming season, she had ideas of her own. She made an entrance and her new look immediately sent a message to everyone present that her look was the "IT" look everyone should go for!
Agnes Von Weiss is a 12.5″ fully articulated fashion doll with fully rooted hair, combed into a short, sophisticated style. In this look, she channels a world famous American designer (one of her idols) in a high-contrast, ultra-dramatic ensemble composed of a show-stopping sateen blouse with romantic puff sleeves and a v-neck mandarin collar, coupled with a high-waisted, very sheer, black guipure lace mermaid skirt lined with delicate dotted tulle. Since Agnes is all about making an impression, of course she has to have the latest fashionable accessories to complete her look and she doesn't skimp here with her exclusively designed leopard clutch purse, closed-toe heels and custom jewelry set!
Item: 91420
Edition size: 1225
Skin tone: FR White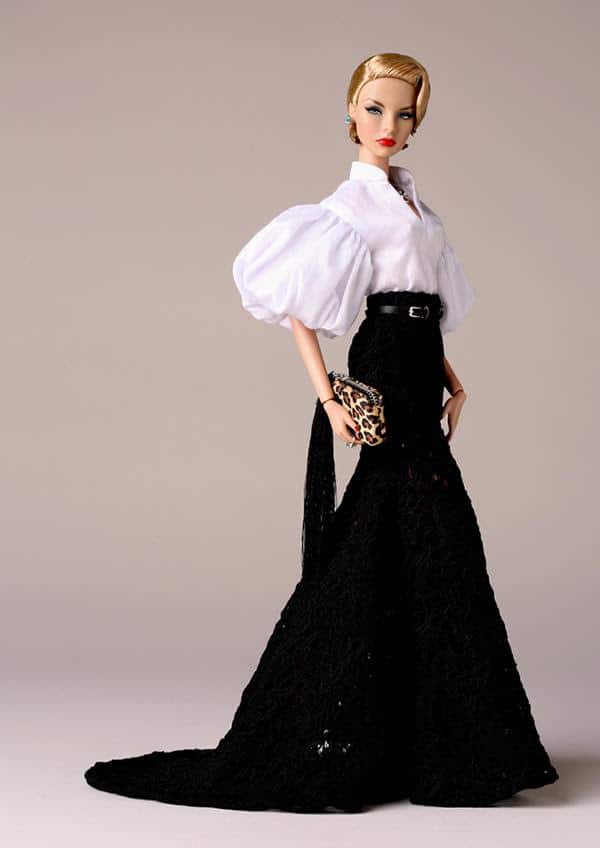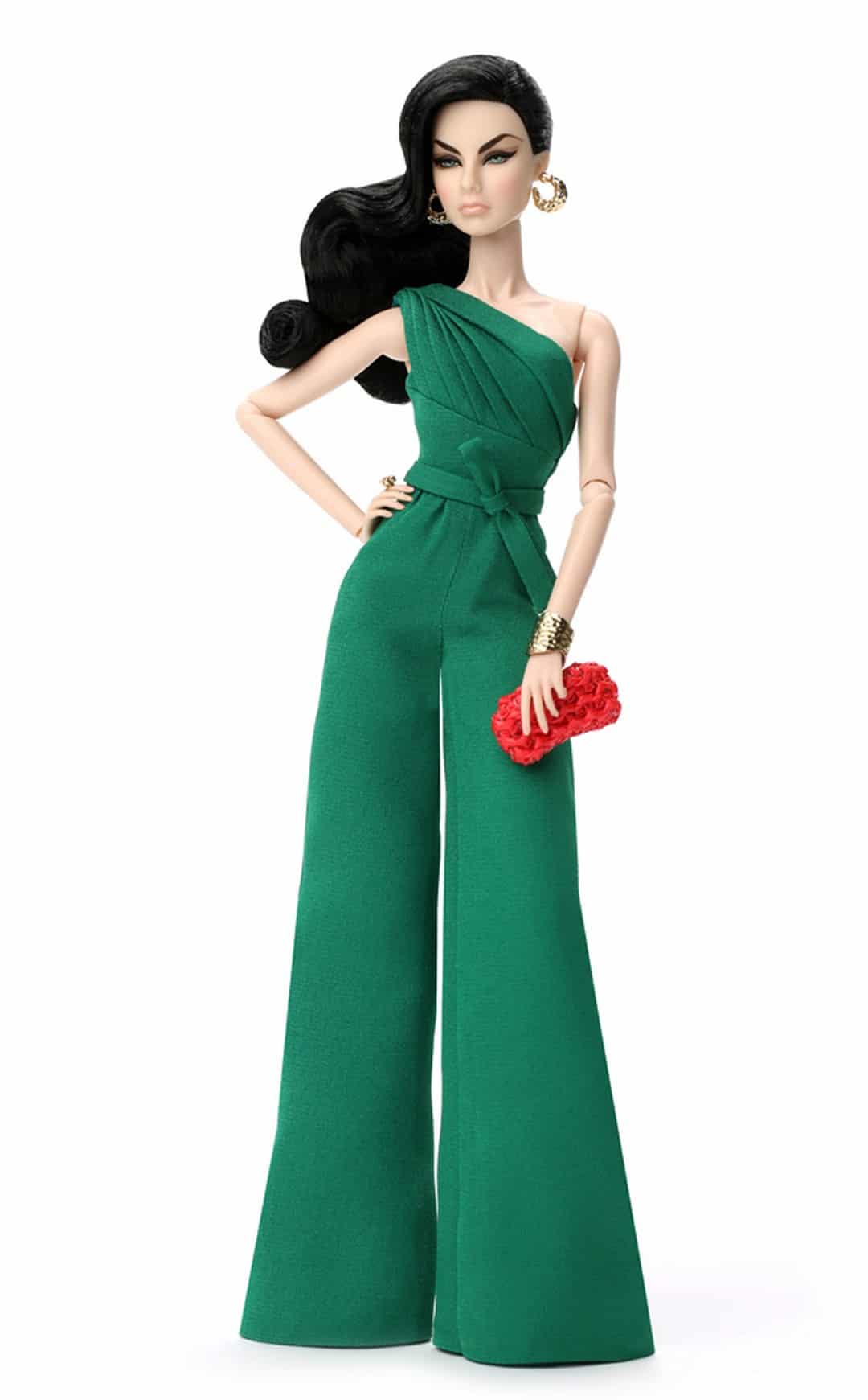 Riviera Drama
Agnes Von Weiss™ Dressed Doll
ven the powerful Agnes Von Weiss needs some time away from it all at times, but the Baroness is not your usual tourist! No vacation would be "normal" as far as everyone's favorite socialite is concerned if it did not involve a little, *ahem*, a lot of drama like only she knows how to create. If you ask her, she'll tell you that it's all in good fun… But, the other guests at the resort would probably beg to differ. In any case, Agnes does it all in style and like her or not, she never leaves anyone indifferent!
Agnes Von Weiss is a 12.5-inch fully articulated doll with full rooted hair and hand-applied lashes. Her thick, luscious raven hair is styled to perfection in a perfectly controlled curl hairstyle. Agnes comes dressed in a dramatic one-piece outfit that delicately drapes over each of her feminine curves. Doll includes purse, jewelry, high-heeled shoes and accessories.
Item: 91421
Edition size: 1585
Skin tone: Cream
The Faces Of Adèle
Adèle Makéda® Dressed Doll Gift Set
W Club Exclusive
Since the beginning, Adèle Makéda has been one of the main pillars that supports the world of Fashion Royalty. While this fierce goddess is the original chameleon of the collection and has shown us various sides of her personality as time went by, never before has she been offered with all of her different "moods" in one complete, ultra-fashionable package. Now, with "The Faces of Adèle" gift set, you have a unique chance to enjoy FR's original top model like never before!
While we wanted to give you a head-switch feature so that you can interchange whichever sculpt you were in the mood for, the team took the "switch" to the next level and this unique gift set brings collectability and doll play up a notch with the inclusion of interchangeable busts in two different sizes (1 extra FR bust and 1 extra NU. Face bust) that feature delicately blushed nipples (also a first!) that will easily allow you to switch either one of Adèle's "faces" on her lower body as you see fit.
The beautiful Adèle Makéda is a 12.5-inch fully articulated fashion doll that comes with not one, but three different sculpts that encompass the various incarnations of the character through the years. Each head features hand-applied eyelashes and has either fully rooted or velvety soft flocked hair (on Adèle version 1.0) depending on the case. As the bodies feature removable parts, you can swap out Adèle's look by removing her bust (instead of having to remove the head, solely).
A gorgeous electric pink gown that suits her lovely skin tone to a "T", an intricately designed daytime dress that features ultra-chic, modern graphic embroideries and a lingerie set that includes two different bras to better display the busts elegantly on the newly developed "Museum Podium" stand are also included with this set. But, best of all, this set also includes all the amazing little extras that you have come to expect from an Integrity Toys gift set- long boots, two pairs of shoes and two complete jewelry sets- just what you will need to make this fashionista look perfectly stylish over and over again!
Item: 91422
Edition size: 1180
Skin tone: A-Tone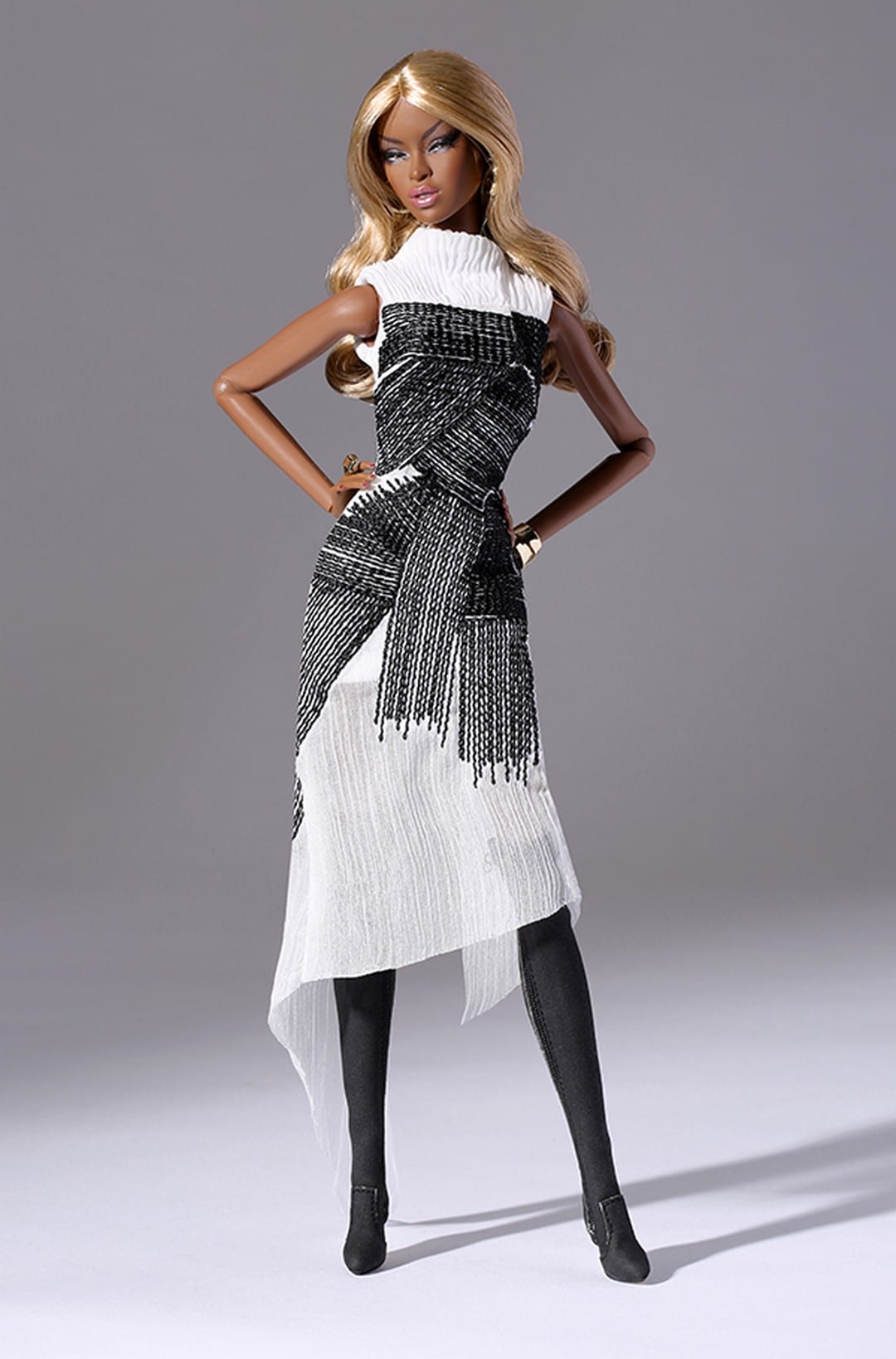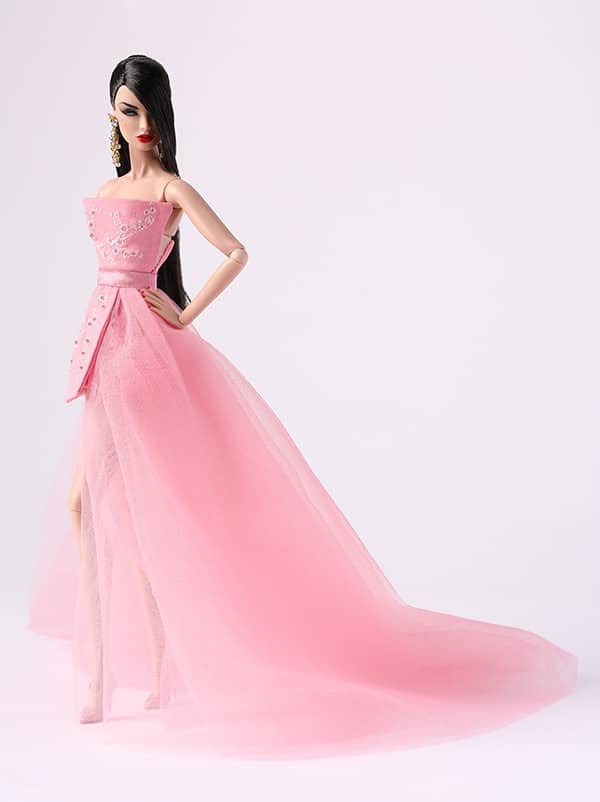 Fame & Fortune
Vanessa Perrin™ Dressed Doll Gift Set
W Club Exclusive
Still "the" face of W Cosmetics after all these years, the eternally youthful Vanessa Perrin has brought much "Fame and Fortune" to her old sister and has always been there through thick or thin. Now more than ever, everyone's fashionista brings her own brand of gorgeousness to the table and shows everyone how it's done!
Vanessa Perrin is a 12.5-inch fully articulated fashion doll with luscious rooted hair and hand-applied eyelashes. In this exquisite gift set, Vanessa Perrin redefines what it means to be a fashionista by including three complete looks that will take her from day-to-night faster than a roll of the dice! First, she starts her day in a lovely Asian inspired lingerie set that includes a custom printed kimono with high-contrast details, then she sets the tone as she runs to catch a train in a high-fashion two-piece ensemble composed of a sheer blouse, black pants and custom embroidered gloves that are sure to become an instant conversation starter as she travels to her next appearance. Then, she quickly switches to a soft, bright pink asymmetrical evening gown with delicate embroidery and beading details to attend one of the most highly-anticipated galas of the year! Vanessa comes complete with two pairs of shoes, a set of regular hands and a set of gloved hands, two jewelry sets, two fully functional (i.e. you can put her favorite accessories inside) monogrammed pieces of luggage, a clutch purse and sunglasses.
Item: 91423
Edition size: 1271
Skin tone: FR White