Groovy Galore
Poppy Parker™ Dressed Doll
W Club Upgrade
Introducing "Groovy Galore", the newest offering from the Poppy Parker Collection!
As Poppy's fame in the modeling world rises to new heights, she has decided to make a bold move to Bellini Models, the hippest modeling agency in the world. Poppy is ready to rule the model scene!
Poppy Parker™ models a groovy vibrant dress, perfect to launch her new career with Bellini! Stunning as always, our girl Poppy is ready to take New York by storm once more!
Poppy Parker™ is an 11.5-inch fully articulated fashion doll with hand-applied eyelashes with scrumptious golden blond hair that can be styled in many groovy styles! Poppy swings in her fun and youthful stripped chiffon dress, highlighted by sparkling accessories. A true modeling star in the making! Doll stand included.
Item: PP078
Edition size: 1135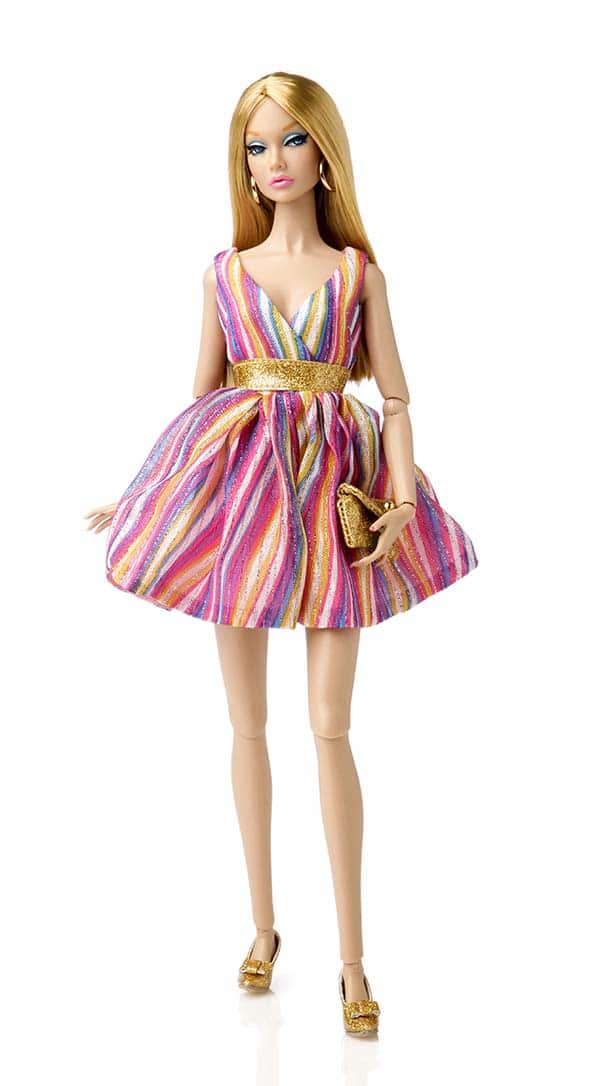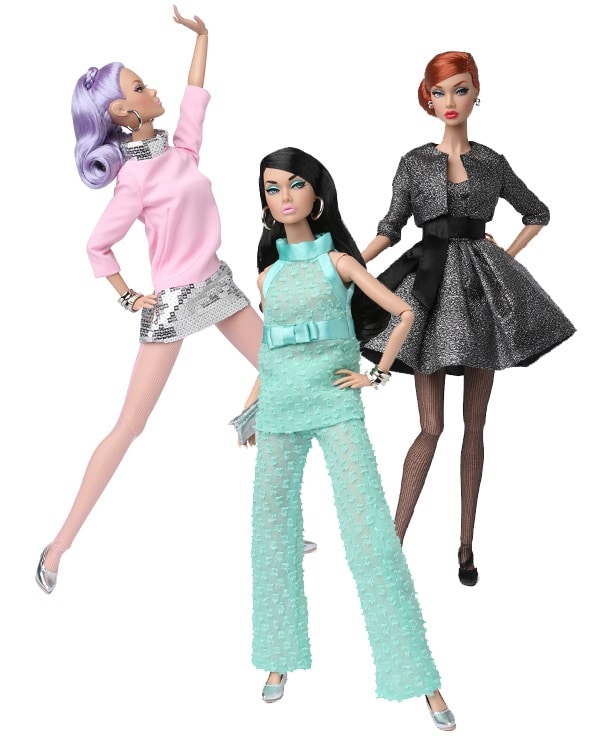 Mood Changers
Poppy Parker™ Dressed Doll
W Club Exclusive
With so much buzz and excitement in the air surrounding our upcoming webinar and the long awaited reveal of this year's new IT collections just a few weeks away, the W Club is proud to be ahead of the curve by giving you a truly scrumptious first peek at this year's amazing Poppy Parker Collection created by David Buttry and the Integrity Toys Design Team!
Your first official W Club Exclusive of 2015 has arrived…
and oh boy, does it ever deliver!
For the 10th anniversary of the W Club, your liaisons have been lobbying hard for extra special exclusives and oh boy, did IT deliver! We are happy to bring you a gift set that is sure to leave all fans of Poppy Parker happy beyond measure!
So without further ado, please welcome the "MOOD CHANGERS" gift set to the ever popular Poppy Parker Collection, featuring the Quickswitch system, three complete different looks and not one, not two, but three different heads for our friend Poppy Parker that will allow Poppy to transform her groovy and happenin' look like never before!
Item: PP079
Edition size: 1500
Go See
Poppy Parker™ Dressed Doll
Poppy is ready to take the modeling world by storm as she sets out to find the "right" model agency that will take her career to new and exciting places! For her day about town, Poppy wears a black and multi color dot two-piece suit with white collar and cuff detail, perfectly topped off by a black flocked hat with a white grosgrain ribbon band, earrings with matching ring, white fishnet pantyhose and white shoes. Of course, Poppy comes with her handy blue portfolio, ready to hand out her best portraits! A doll stand is included.
Item: PP080
Edition size: 750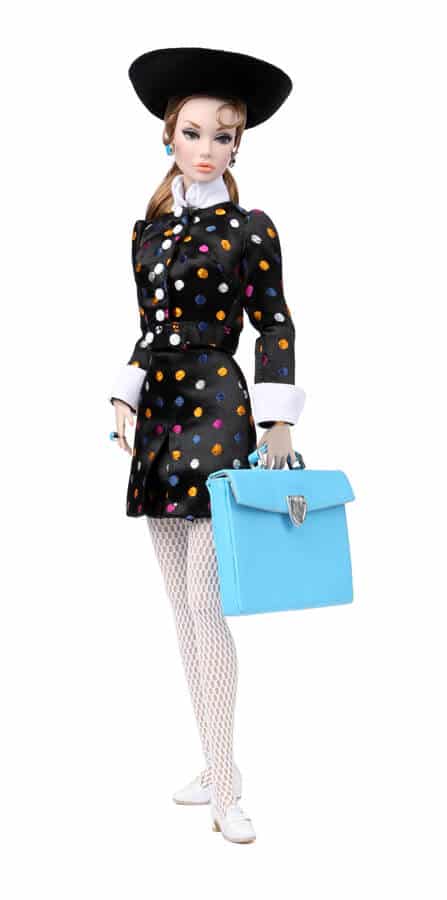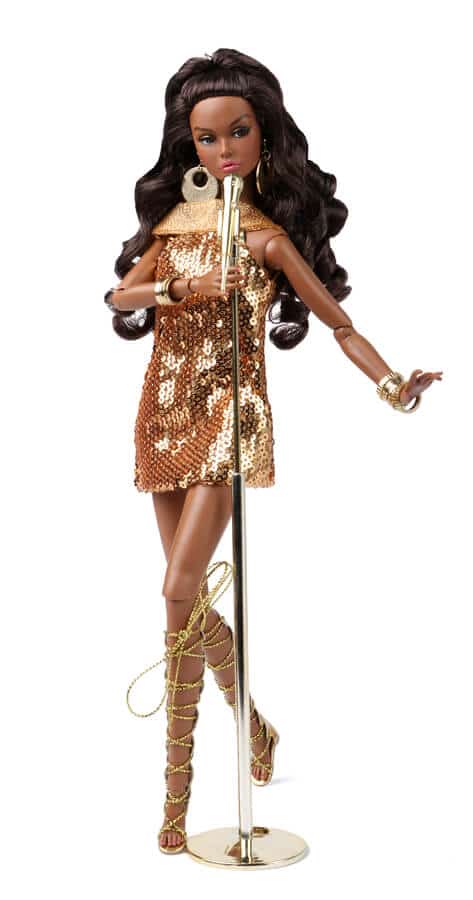 Midas Touch
Poppy Parker™ Dressed Doll
Poppy shows her solid gold side, ready to gogo dance and sing the night away in her gold sequin mini dress with metallic gold organza collar, lace up gladiator sandals, large gold disc earrings, gold cuffs with gold bangle bracelets. She and Darla can show off their singing talent with Poppy's gold tone microphone and stand.
Item: PP081
Edition size: 600
Spring Song
Poppy Parker™ Dressed Doll
Looking absolutely scrumptious, Poppy models a long blue floral chiffon maxi dress with a blue ribbon choker, blue faux leather shoes, small silver hoop earrings and silver bangle bracelets.
Item: PP082
Edition size: 800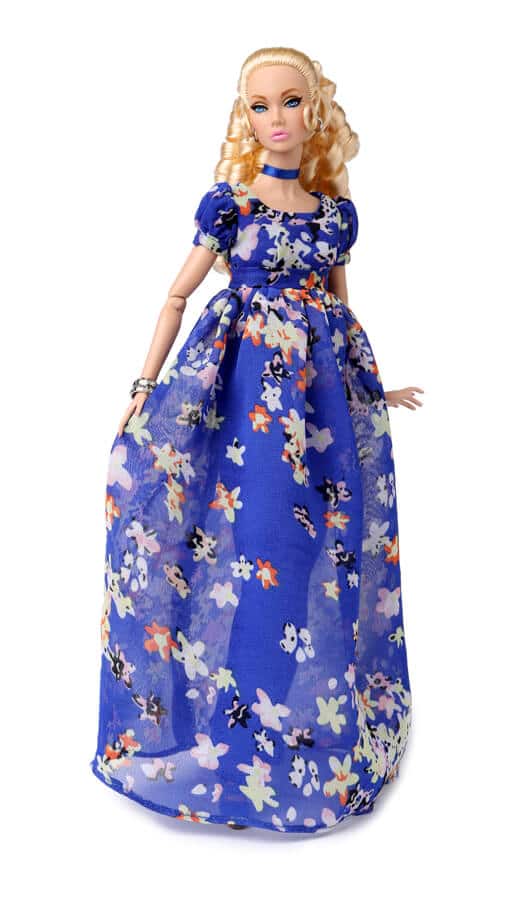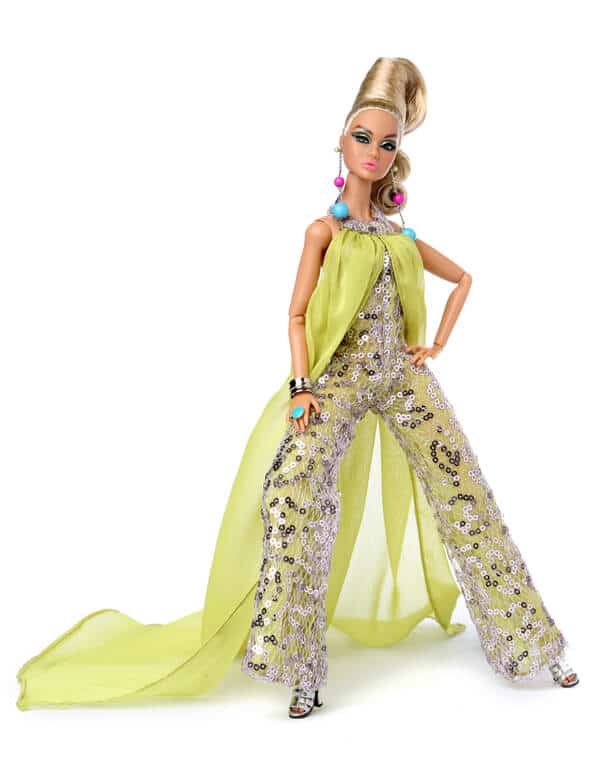 The Camera Loves Her
Poppy Parker™ Dressed Doll
In one of her most avantguard gigs yet, Poppy wears a bold lime green jumpsuit with silver sequin overlay and a dramatic lime green chiffon watteau train. Long multi color ball and chain earrings, silver cuff, large blue ring and silver faux leather strappy high heel sandals complete this extraordinary look.
Item: PP083
Edition size: 800
Hippie Dippy
Poppy Parker™ Dressed Doll
IT Direct
Poppy shows her groovy hippy side in a black and white polka dotted mock tied blouse, large yellow straw hat, hot pink faux fur vest, white cropped bell bottom with mod floral faux leather belt and faux leather black ankle boots. But when Poppy is done with her hippy chic assignment, she dons a black and charcoal floral sequin mini dress with black peter pan collar with long silk ribbon bow and tails. Black pantyhose are included.
Item: PP084
Edition size: 700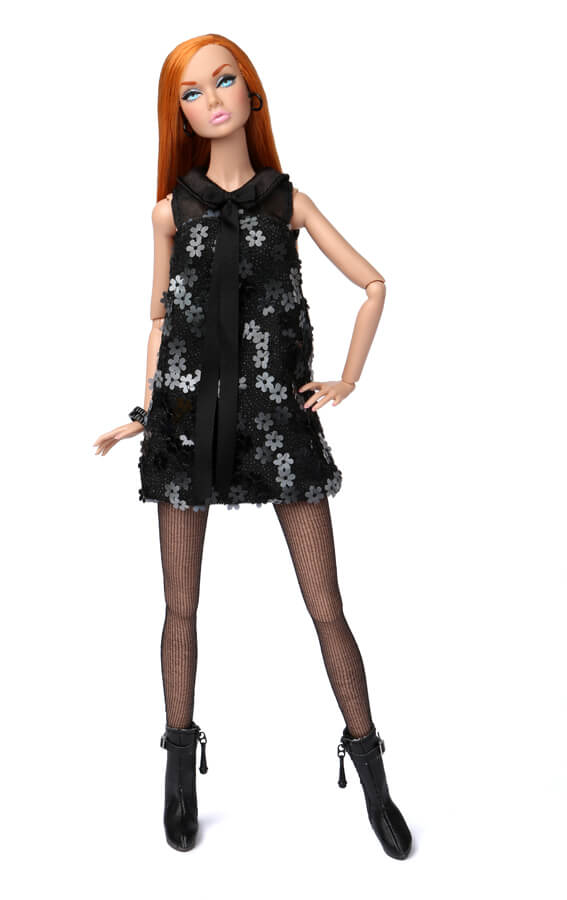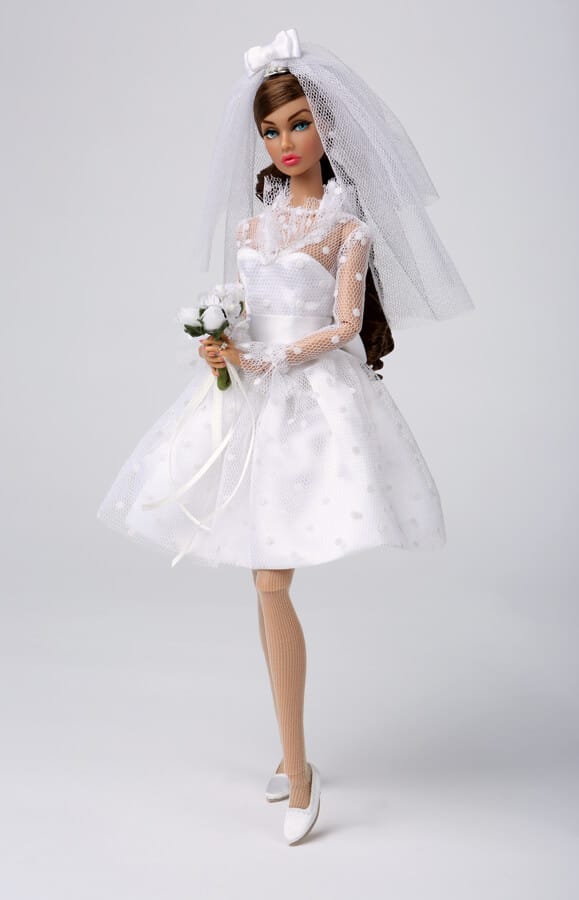 Wedding Belle
Poppy Parker™ Dressed Doll
When Nigel wanted to capture Poppy's more romantic side on film, she immediately suggested modeling a wedding dress! The results were so stunning, Nigel almost proposed! Poppy looks delicious in her white satin wedding dress with white dotted tulle overlay and a tulle wedding veil with large bow detail. Her delicate wedding bouquet, pearl earrings with matching necklace and a lovely wedding ring complete the look.
Item: PP085
Edition size: 900
Out of this World
Poppy Parker™ Dressed Doll
No groovy sixty's modeling assignment would be complete without a futuristic look and Poppy Parker is more than happy to oblige! Poppy looks out of this world in her silver faux leather mini dress with silver and white lurex bodice and sleeves. This stellar look is completed by large silver triangle earrings, silver tone mod sunglasses and over-the-knee silver faux leather boots.
Item: PP086
Edition size: 900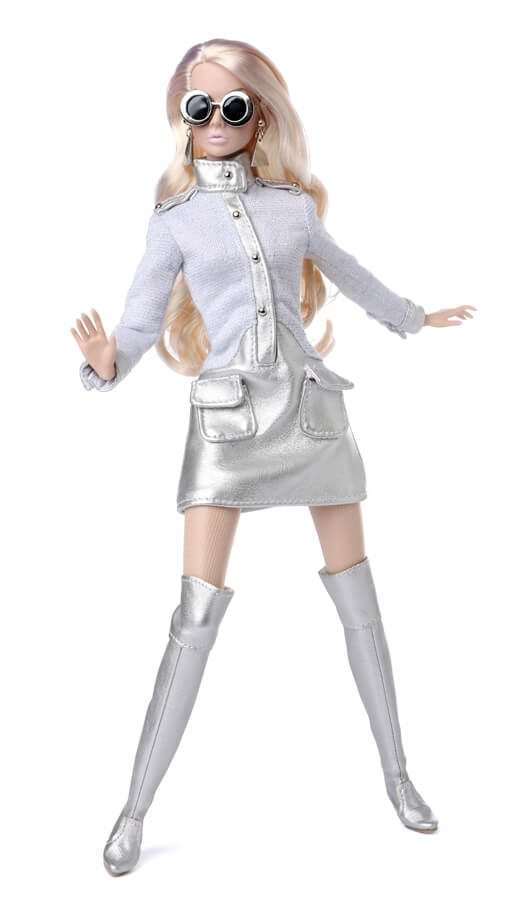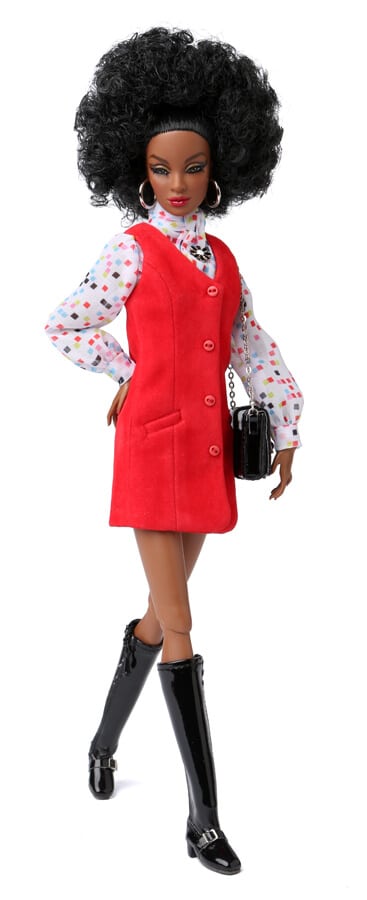 Peace, Love and Soul
Darla Daley™ Dressed Doll
Poppy's fabulous friend Darla is back looking more smashing than ever is her red velvet mini dress vest, white chiffon blouse with multi color block print, large silver hoop earrings, black daisy brooch, shiny black faux leather purse and matching boots!
Item: PP087
Edition size: 500
Hot Shot
Nigel North™ Fashion Figure
Famous British fashion photographer Nigel North is well known to be a ladies man! Will he seduce Poppy with his charming hot looks? Nigel is totally smashing in his hot pink shirt, red and purple paisley brocade jacket, purple velvet pants, silver sunglasses, silver and purple ring. No self-respecting photographer would go out without his trusted camera, ready to snap a prize winning beauty shot of our favorite model!
Item: PP088
Edition size: 600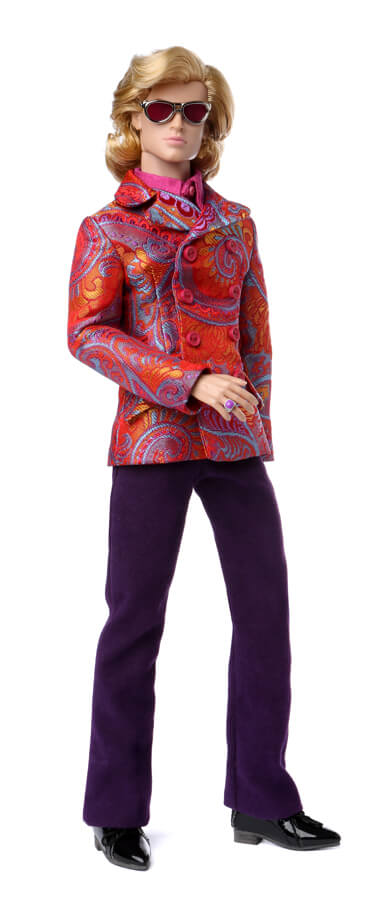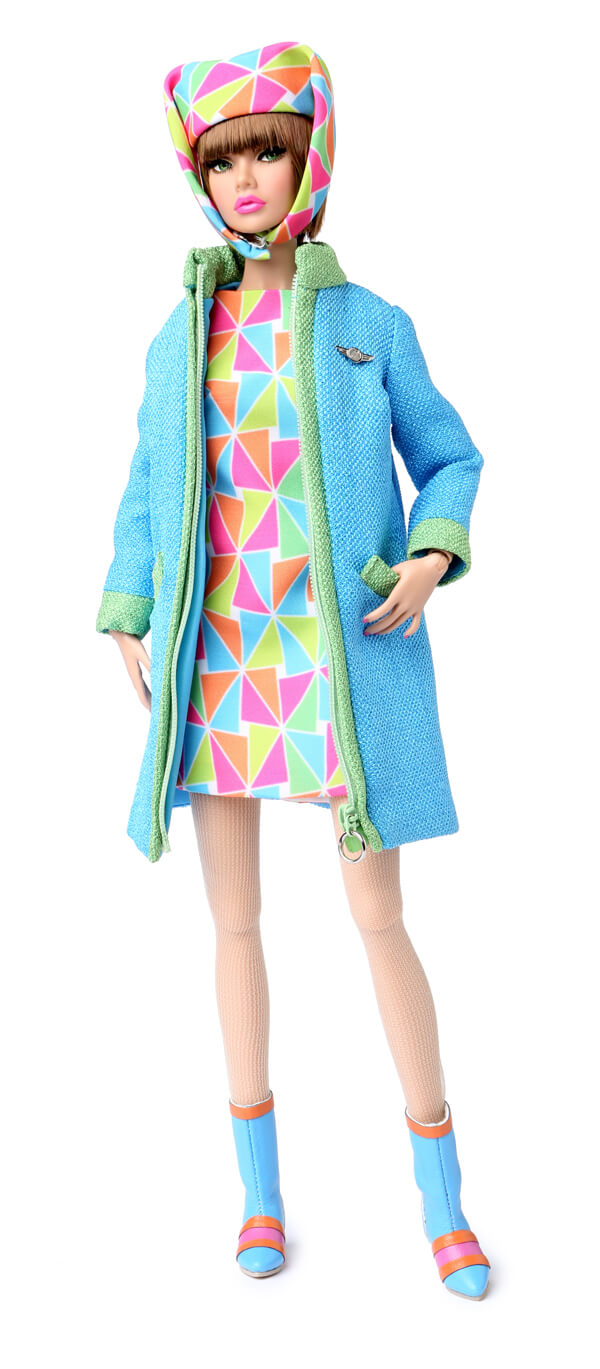 IT Airways
Poppy Parker™ Dressed Doll
IT Direct
Poppy Parker is on cloud nine. She has just taken on a new assignment as spokes model for IT Airways, the grooviest ride in the sky. Poppy will soon be featured as the lead air hostess in multiple print ads and even a national TV commercial for the company whose motto is "Flying with us is always in fashion!" Poppy comes ready to fly in a totally mod coat accented with lime green trim, a multi-color print shift dress with matching hat, and a two piece bright pink belted suit with apple green turtleneck. Groovy mid calf boots, flats, earrings, lapel pin, and a white travel case with the IT Airways logo creates the perfect ensemble to fly around the world.
Item: PP089
Edition size: 800