2018
In this ultra-feminine offering, you will find five of your favorite Fashion Royalty ladies dressed in classic FR lingerie pieces, re-invented to suit their moods. Each close-up doll in this collection will be a perfect addition to your collection, as they offer tons of redress possibilities and have the most beautiful faces we've seen yet!
Without further ado, introducing the Fashion Royalty "Boudoir" capsule collection by Integrity Toys!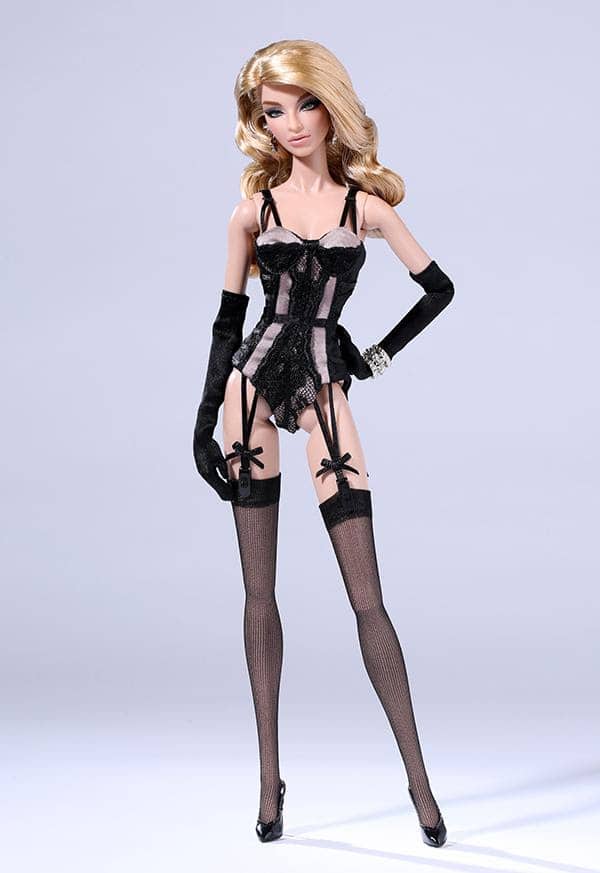 Just a Tease
Mademoiselle Jolie™ Dressed Doll
Mademoiselle Jolie is the original "It" girl of Fashion Royalty! Together with the Perrins, she helped mold the world of FR. Here, she makes one of her rare appearances looking more stunning than ever, just waiting to get dressed for a ball or a lovely soiree lounging at home!
Item: 91434
Edition size: 615
Skin tone: FR White
Fetish Fatale
Véronique Perrin® Dressed Doll
In her delicate, red-hot lingerie set, fashion leader Véronique Perrin sets the tone as she channels seductresses from days past! Offering tons of re-dress possibilities, this fantastic close-up doll is the perfect glamour puss for your collection!
Item: 91435
Edition size: 515
Skin tone: Japan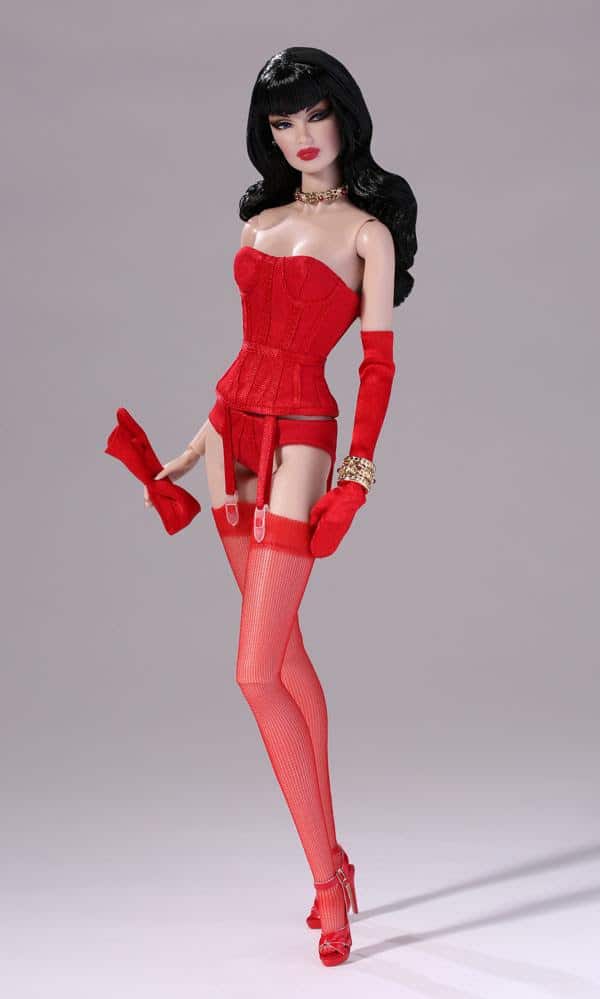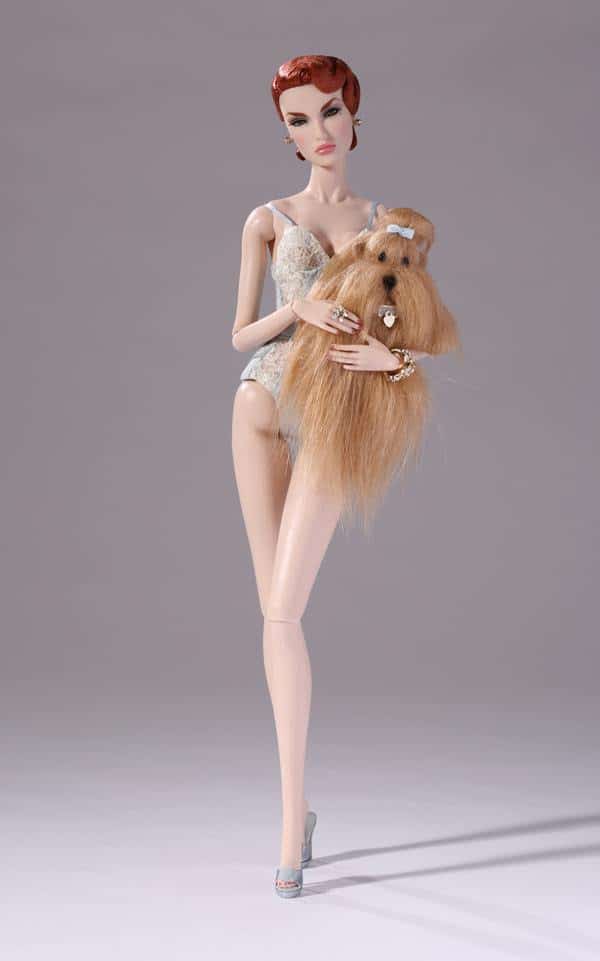 Daydream
Dasha d'Amboise™ Dressed Doll
Elyse Jolie's best friend and confidante, Dasha d'Amboise is one of the top Parisian fashionistas. The queen of elegance, Dasha loves to relax at home with her absolutely adorable, perfectly groomed puppy, Jojo.
Item: 91436
Edition size: 615
Skin tone: Cream
Dollface
Adèle Makéda® Dressed Doll
W Cosmetics top model and lifelong friend of Véronique Perrin, Adèle Makéda shows everyone how delicate lingerie should be worn! Seen here for the first time in the new "Sunkissed" skin tone, Ms. Makeda is a must have for your collection!
Item: 91437
Edition size: 615
Skin tone: Sunkissed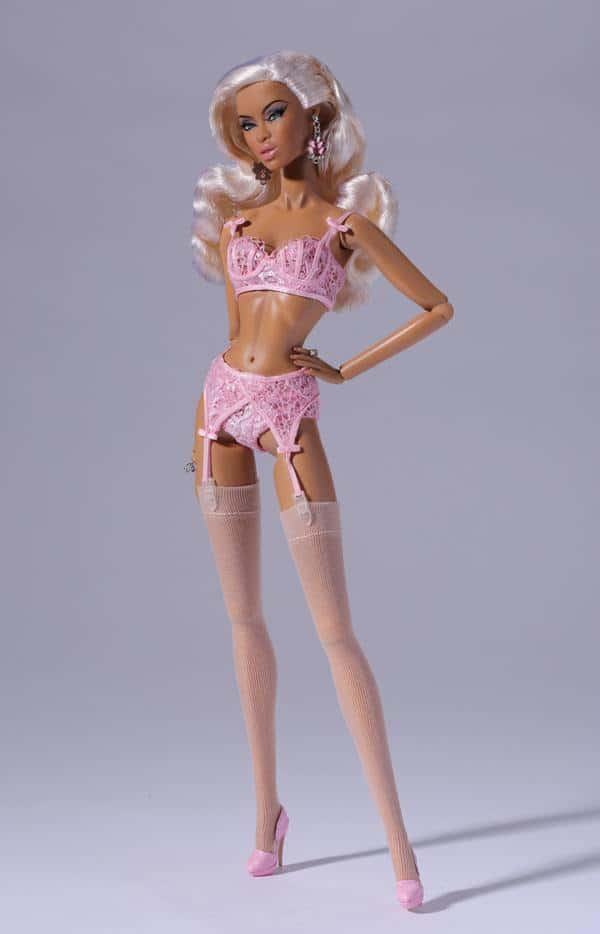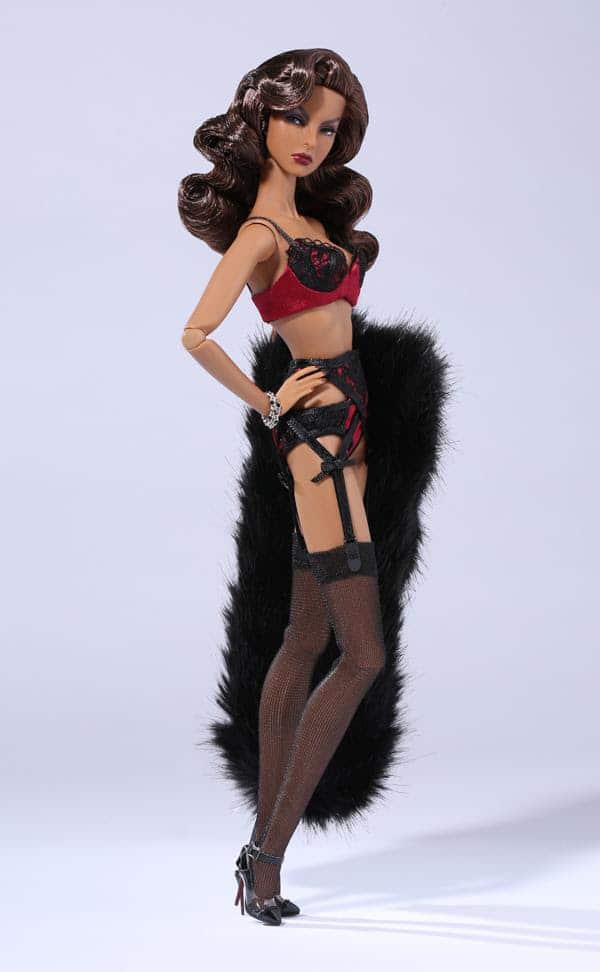 Vamp
Agnes Von Weiss™ Dressed Doll
Agnes Von Weiss is one of, if not the most controversial characters of the world of Fashion Royalty! Whether she is making a claim to her ancient noble ancestry or makes a bold statement about how she personally invented fake fur, one never knows what to expect with "The Baroness"… That's why she has become everyone's favorite socialite!
Item: 91438
Edition Size: TBD
Skin tone: Light Honey
Devotion
Agnes Von Weiss® Dressed Doll
It came as no surprise that the only person in town that could actually outshine a movie star on premiere night would be Baroness Agnes Von Weiss. After all, did she not deserve to be there after all those hours spent looking for the right person to bribe on that set so she could get a walk-on role, no matter how random her presence on-screen would seem to eager movie going audiences?
For Agnes, how she got there did not matter much; being a part of this production was just another logical step to take in order to better cement her presence in the media. Shockingly, her brief scenes ended up being some of the most memorable ones and movie executives definitely took notice. Plans were put in motion to have her appear in other productions, if only she could act as well as she looked, something big could be in the making!
Item: 91440
Edition size: 1700
Skin tone: Cream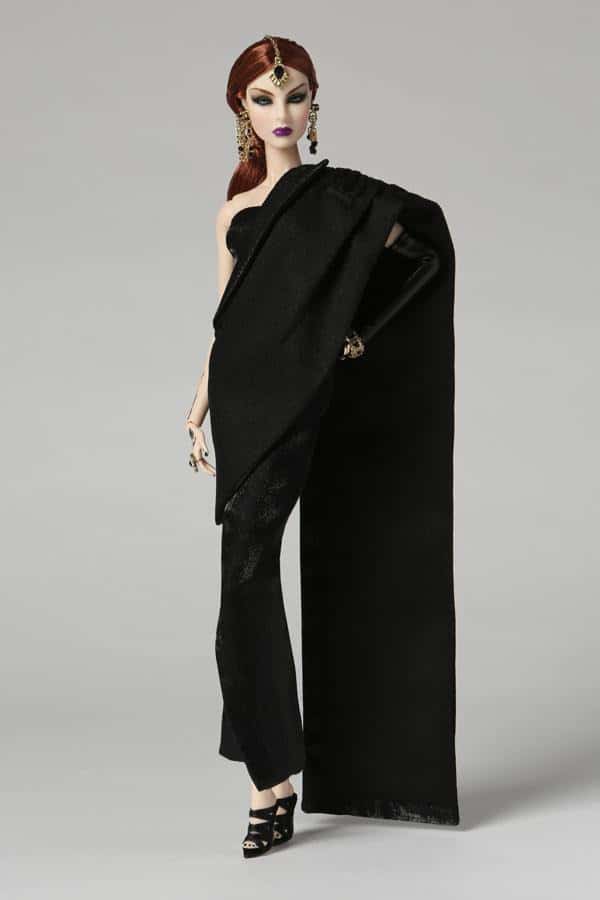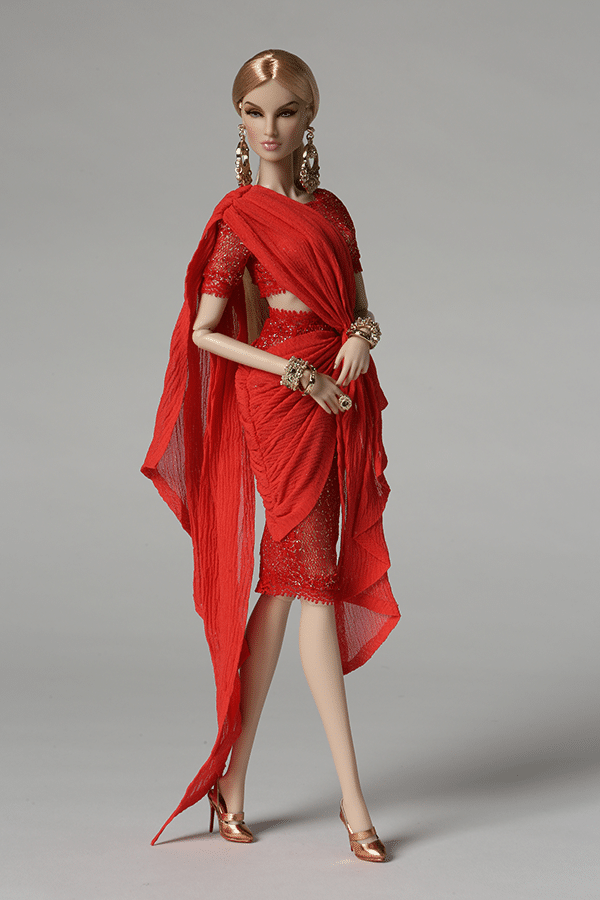 Goddess
Tatyana Alexandrova™ Dressed Doll
No one knows how to do opening nights like oligarch Tatyana Alexandrova. While she would love for everyone to think that her sudden appearance at the Sacred Lotus premiere was just a pure "coincidence" and that the fact that she was perfectly dressed for the occasion was just a fluke, her "it's all so easy" demeanor never fools anyone.
The reality is that this ever-calculating femme-fatale would never leave a single detail of such an important public appearance go unchecked. A woman of her character knows full well what she wants; after all, a Goddess demands nothing but perfection!
Item: 91441
Edition size: 950
Skin tone: Japan
Karma
Kyori Sato® Dressed Doll
When Kyori Sato received the official invite to Isha's big comeback premiere, the first person she texted was her friend Natalia Fatalé! The pair immediately started giggling knowingly, remembering all the tricks they pulled at Isha's very first premiere party some 14 years ago and of course, they immediately started planning more of the same. Little did they know, Isha and her friends at W Cosmetics (the official sponsors of the event) had grown wiser and were well ahead of them. Whatever they'd be planning this time to steal everyone's thunder, the W crew would be ready for.
The ever-mischievous Kyori Sato better watch herself, since Karma has no problem getting back in touch with you when need be!
Item: 91442
Edition size: 850
Skin tone: Latino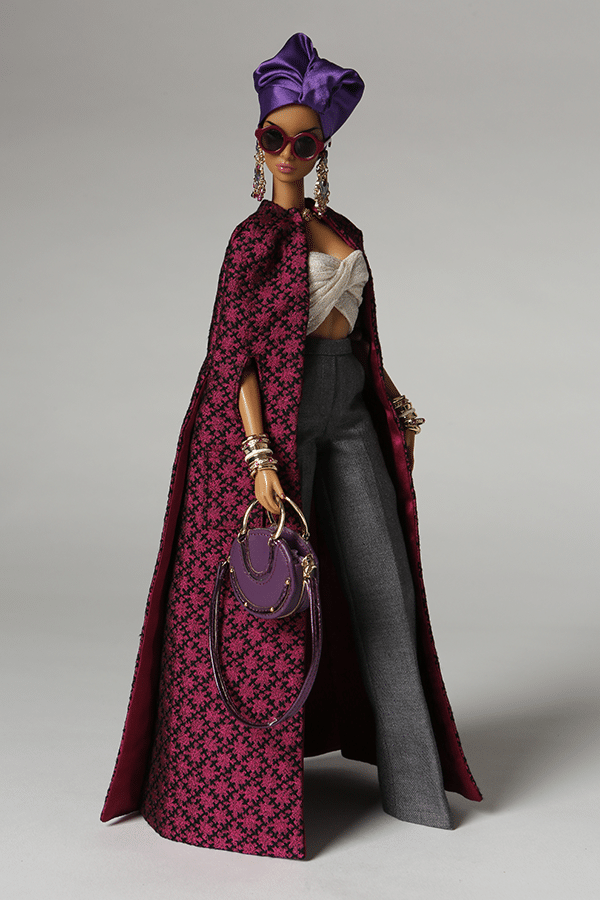 Resurgence
Natalia Fatalé® Dressed Doll
Everyone assumes that Natalia Fatalé has simmered down and has walked away from her nefarious ways since she rekindled her friendship with Véronique Perrin several years back, but they could not be anymore mistaken. Causing trouble for the ever so sweet and perfect Isha is what she lives for, just because, as she puts it, she can!
What better place than THE big movie premiere event of the season to parade in front of the Parisian press, all aglow, just to show the plebs that what you have is still the only game in town? Cause a scene, witness everyone shaking their heads pretending to be shocked at your behavior and then leave; that's how Natalia Fatalé rules the red carpet in her own glamorous way!
Item: 91443
Edition size: 950
Skin tone: Sunkissed
Serenity
Vanessa Perrin® Dressed Doll
When she heard that her friend Isha was finally coming out of her well-deserved rest and had landed the role of a lifetime that would allow her to show the world what a truly talented actress she was, Vanessa was genuinely thrilled and happy to be part of the team that would help her longtime friend be resplendent on the silver screen!
A few months later, as she walked the red carpet the night of the premiere, ever so polished and looking stunning herself, Vanessa knew immediately just judging by the electricity in the air and Isha's truly glowing appearance that she and the W Cosmetic team had done another outstanding job. Her big sister Véronique and everyone else would be pleased!
Item: 91444
Edition size: 950
Skin tone: Dark A-tone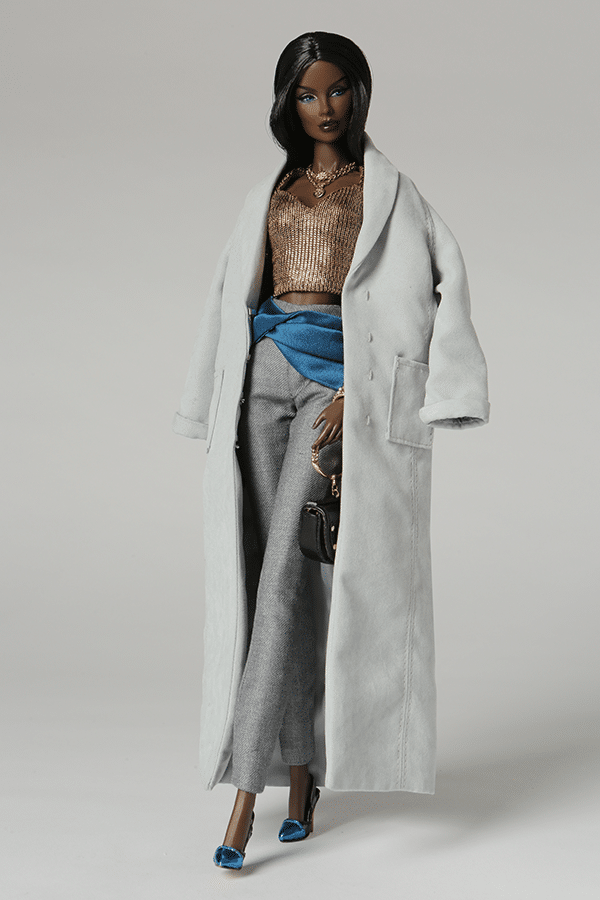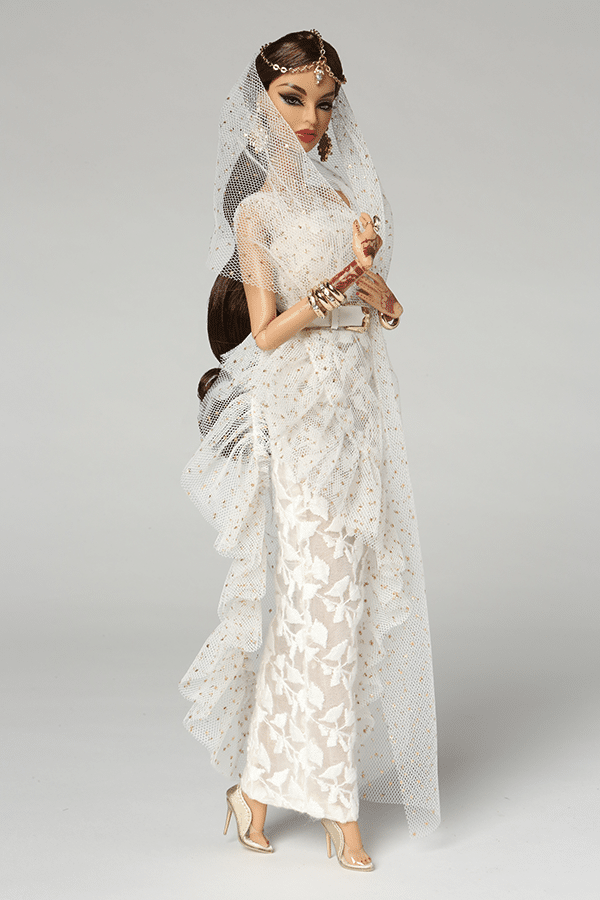 Divinity
Isha Kalpana Narayanan™ Dressed Doll
When Isha decided to take a break from acting to travel and explore the world, little did she know that she would leave a giant void that would leave her fans panting for more!
When her agent sent her the script for Sacred Lotus and she realized that she would be playing a pivotal role in the story, she knew instantly that this would be just the right vehicle for her long awaited return! Even though she was a little out of practice and the production had its ups and downs, there wasn't a dry eye on set as the director called "CUT!" on the grand wedding finale. This was going to be an instant classic; there was no doubt about it, the divine Isha was back!
Item: 91445
Edition size: 850
Skin tone: Hungarian
Divinely Luminous
Elyse Jolie™ Dressed Doll
Elyse could not miss Isha's big return and was more than happy to attend the premiere of her new movie, Sacred Lotus!
As a nod to her good friend's success, Elyse decided to make Isha's key look from the movie her own, but push the glam factor into overdrive with the addition of even more golden jewelry and a change of shoes, to better participate in the Bollywood dance choreography at the cast party! Elyse had fun until the wee hours of the morning and looked absolutely fabulous doing it!
Item: 91445A
Edition size: 1300
Skin tone: Hungarian