2017
THE NEW STYLE GURUS ARE HERE!
The internet has been on fire since we released our new sneak peek "sizzle reel" for The Industry last Monday and we are thrilled to bring you the exciting details of this super hot collection at last!
Brainchild of Integrity Toys designer David Buttry, The Industry finally explodes on the scene with tons of new features, including new friends, exciting accessories and the introduction of the new much talked about articulated flat feet* that open a whole new world of footwear possibilities for your fabulous doll collection!
Without further ado, please meet Tulabelle True and all her new exciting friends!
Come Thru!
Tulabelle True™ Dressed Doll
Blogger and fashion influencer Tulabelle True is well known by every fashion enthusiast in the world. Not only is she the grand-daughter of famous 60's teenage model Poppy Parker, but her fashion blog, TRUE STYLE, now followed by millions across the world, sets the tone for everything that's considered cool by a new generation of fashionistas always looking for the next hot thing to wear and do. Very much sought after by industry insiders, Tulabelle has become a major front row presence at fashion shows across the globe and since she became involved with hot fashion designer Tate Tanaka (grand-son of Poppy's friend Tina Tanaka!), Tulabelle's name is on every "who's who" list!
Tulabelle True™ is a fully articulated 12.5 inch doll with fully rooted hair and hand applied eyelashes. Busy helping her hot new boyfriend, fashion designer Tate Tanaka with his debut collection, Tulabelle shares in the glam wearing one of his ultra-sleek creations! A true New Yorker, our friend makes an impression in the perfect little black dress, gorgeously paired with a show stopping sequined cropped jacket! Tulabelle makes a statement with her accessories and is ready to blog about the show directly backstage using her sleek new smart phone, while sipping freshly brewed java from her favorite coffee cup
Item: 88002
Edition size: 600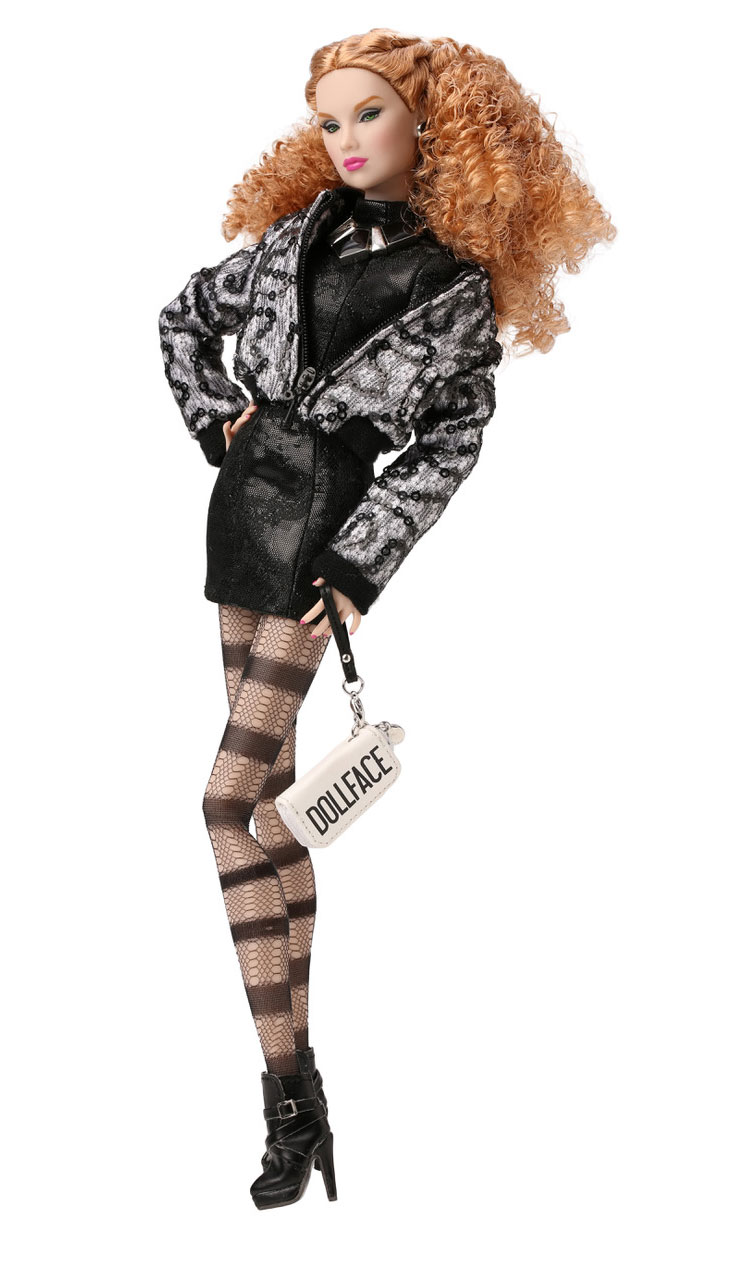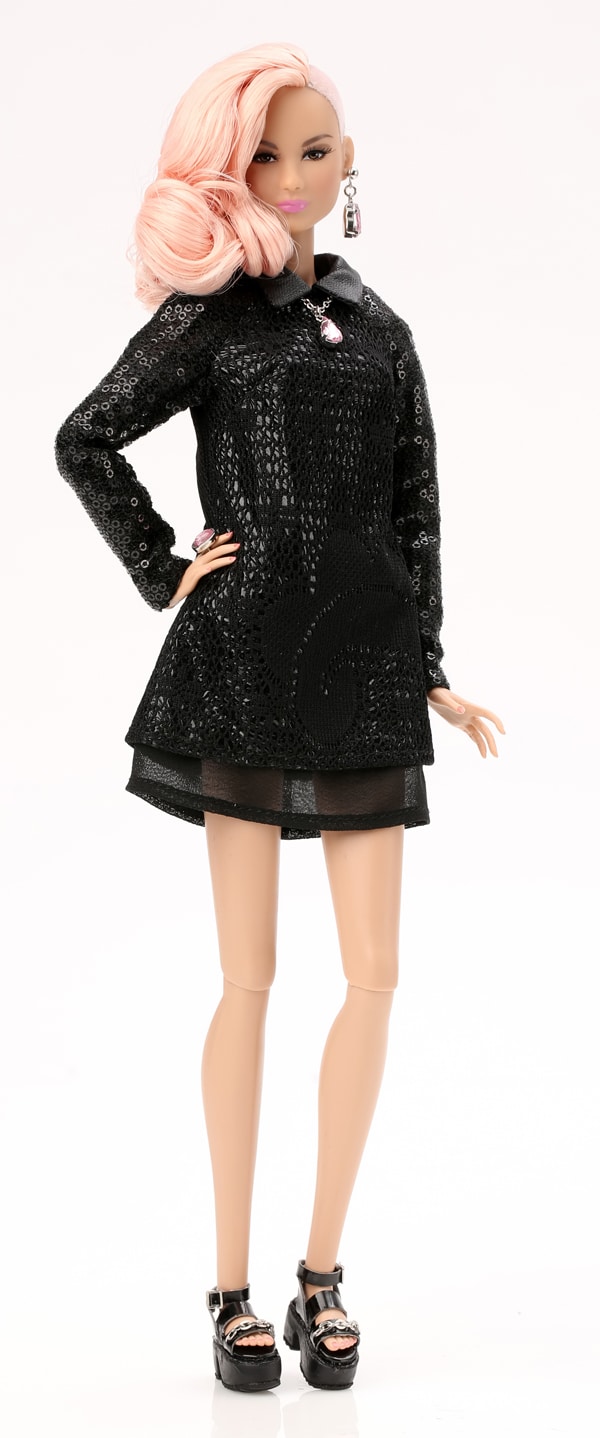 Style Savior
Liu Liu Ling™ Dressed Doll
Fashion stylist Liu Liu Ling is popular with designers and has collaborated with every big name in the industry, helping to finalize collections and add that final polish needed to make every new style shine and jump out, whether on the runway or on the red carpet! Since meeting through designer Tate Tanaka, Liu Liu has become fast friends with Tulabelle and the pair is always seen about town, shopping for the perfect accessories!
Liu Liu Ling™ is a fully articulated 12.5 inch doll with a combination of rooted hair and flocked hair and features hand applied eyelashes. Always edgy, Liu Liu is wearing a hooded faux-fur jacket over a fun mini-dress and she opted to complement the look with just the right delicate jewelry set, a high-contrast carry-on bag and a rose gold cell phone, just so she can follow Tulabelle's blog and not miss a single beat! Liu Liu is the very first doll from The Industry Collection to feature the new articulated flat foot and to mark this occasion, Liu Liu comes with not one, but two pairs of shoes to help fans better discover this new feature! For adult collectors ages 15 and up only. This doll cannot stand alone; a doll stand is included.
Item: 88003
Edition size: 600
Zine Queen
Binx Barone™ Dressed Doll
Fashion Editor Binx Barone works for one of the top fashion publications in the world: CLASS. With her no-nonsense attitude, Binx has been known to make or break designers and has never shied away from really expressing her feelings about new collections. Invited to attend Tate Tanaka's big debut on the runway, everyone on Tate's team is a little nervous about the "dragon editor's" feedback, but Tulabelle has Binx's ear and since they both loved what they saw, Tate is sure to get glowing reviews!
Binx Barone™ is a fully articulated 12.5 inch doll with fully rooted hair and hand applied eyelashes. Elegant and sophisticated like any lady in her important position, Binx Barone means business dressed in her long jacquard print overcoat and super high-fashion, intricately constructed cocktail dress, perfectly accessorized with the latest jewelry, black purse, cat-eyed glasses, socks and shoes. BINX takes note of every little detail that she sees on her golden tablet, ready to send her notes to her assistant, who will report on the latest looks of Tate Tanaka's first fashion show!
Item: 88004
Edition size: 600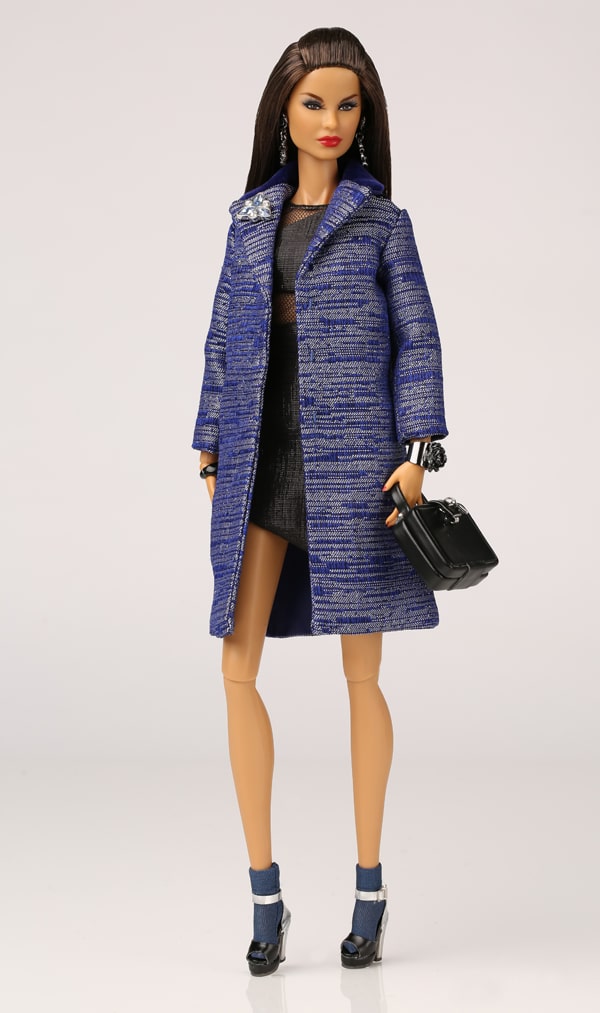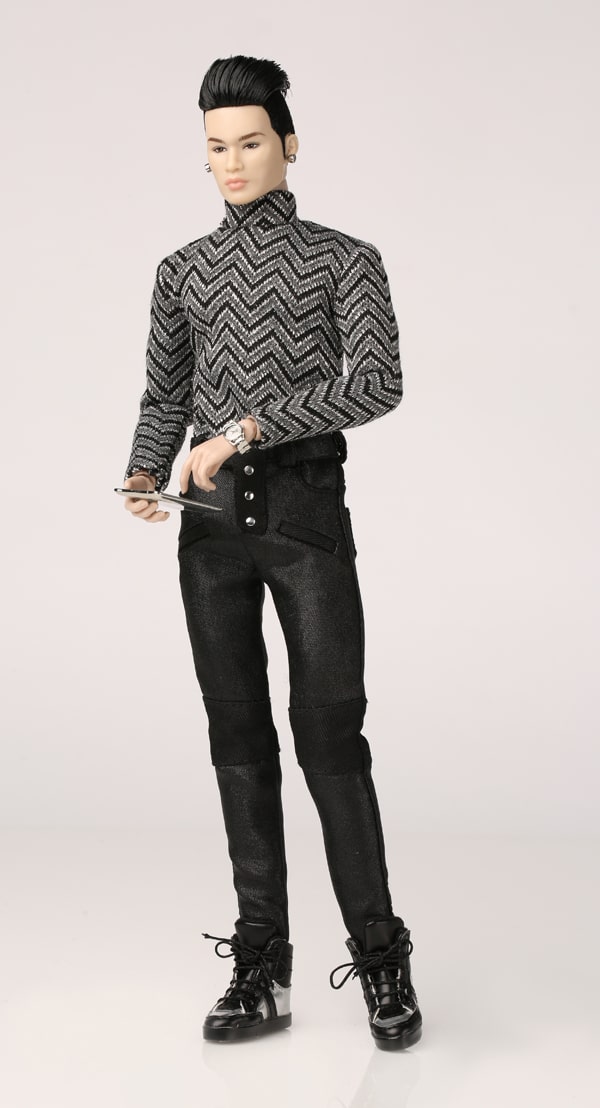 Believe the Hype
Tate Tanaka™ Fashion Figure
Grandson of famed 60's TV actress Tina Tanaka, young Tate Tanaka discovered his passion for fashion while admiring all of the cool costumes his grandmother wore on the set of the hit TV series THE GIRL FROM I.N.T.E.G.R.I.T.Y! Deciding to become a designer was a natural choice for him and he's now ready to take his first steps under the tents of fashion week, alongside his sweetheart Tulabelle True, whom he met at a cast reunion while visiting his grandmother and her best friend, Poppy Parker!
Tate Tanaka™ is a fully articulated 12.5 inch fashion figure with a combination of rooted and flocked hair. Tate Tanaka is well-known for his sleek sense of style and that's what the girls love the most about him, but make no mistake, his heart belongs to Tulabelle! Tate comes dressed in a super sleek look composed of a fashionable long-sleeved sweater, ultra-detailed pants and a high-contrast hooded winter jacket designed by one of his friends! The best thing about Tate? His taste for cool accessories- check out his boot print bag! How hot is that?
Item: 88005
Edition size: 600
Beauty Boss
Cabot Clark™ Fashion Figure
Cabot Clark is the most sought-after hair and makeup artist and is one of the top members of the go-to celebrity "glam squad"! Known to invent new techniques on the spot to maximize the look of any model, Cabot only uses the best products available, including cutting-edge offerings from W Cosmetics, Missima and a few others that he never speaks about; that's his real secret… Our guy has stuff in his arsenal that would make anyone look amazing under any light! Tate Tanaka's go to style guy, Cabot is an integral part of Tate's newfound success!
Cabot Clark™ is a fully articulated 12.5 inch fashion figure with short, fully rooted hair. Cabot is definitely a sharp dresser and if anyone sets the trends to follow in this industry, it's this fine gentleman. Dressed to outshine his competition, Cabot wears a sheer shirt with a pair of super cool silver-toned trousers under a fun "fur" jacket, but what makes this figure truly outstanding is the absolutely adorable miniature makeup case and ultra-detailed miniature "makeup" palettes and faux-brushes he carries with him pretty much everywhere he goes. This guy is always ready to make someone shine!
Item: 88006
Edition size: 600